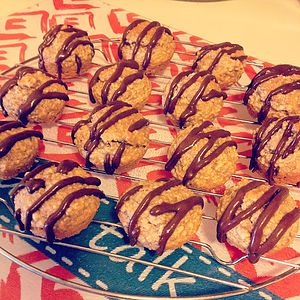 Donut Holes
2016-06-08 00:00:27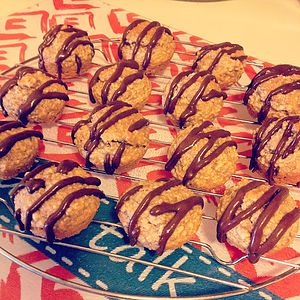 Ingredients
Cashew Flour
Eggs
Chia Seeds
Apple Cider Vinegar
Baking Soda
Almond Milk
Molasses
Raw Cocoa
Coconut Sugar
Instructions
Oven at 350
In a bowl, add 2 eggs, 1/4 c. chia seeds, 1 tsp. apple cider vinegar, 1 tbsp coconut sugar.
In the same bowl, add 1 C. cashew flour, 1 tsp baking soda, splash of almond milk. Blend all.
Use small muffin baking sheet. Spoon into cups, throw in oven.
In a small bowl, add heaping tablespoon of molasses. LICK THE SPOON.
Same bowl, heaping tablespoon of raw cocoa.
One more thing, splash of almond milk. Stir until deliciousness is created.
Bake 10 minutes.
Let cool. Put on baking rack.
Put icing into ziploc bag and cut a tiny corner.
Design as you wish the icing. Save the rest or eat it straight from the icing gun.
The Pantry Raider http://thepantryraider.com/